Take Action
Negative Declaration on the Five Bridges Well 385R
This well (originally Well 385) has been turned off. LADWP wants to turn the "new" well on for "testing" purposes. Comments are due by October 23.
Here are the respective documents:
Join us in Adopting a Mitigation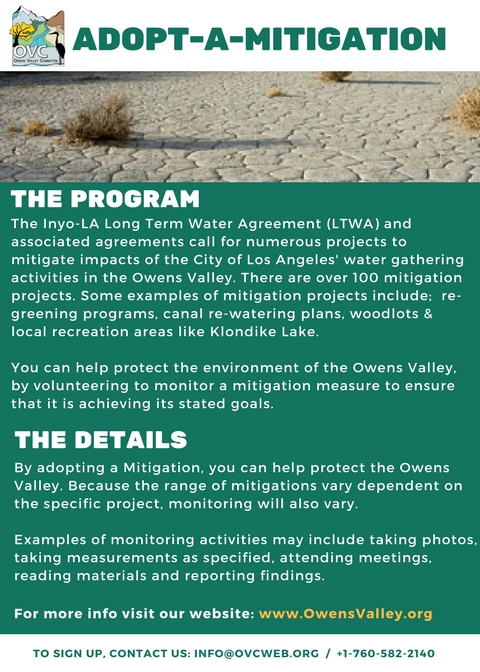 Click here to fill out the Adopt Application.
Owens River Water Trail
Urge the LADWP Commissioners to say YES to the Owens River Water Trail.
Water Trail Handout for 2-22_Rev2-21
For more information, please contact us at 760-582-2140 via the Owens Valley Committee email at info@ovcweb.org.
Here are three graphic representations of the Owens River Water Trail Project. Thank you to the Inyo County Water Department staff for supplying them.
Mayor Eric Garcetti
200 North Spring St.
Los Angeles, CA 90012
213-978-0600
Website
Board of Water and Power Commissioners
Los Angeles Department of Water and Power
Room 1555-H, 111 North Hope Street
Los Angeles, CA 90012
MEL LEVINE, President
WILLIAM W. FUNDERBURK, JR., Vice President
JILL BANKS BARAD, Commissioner
MICHAEL F. FLEMING, Commissioner
CHRISTINA E. NOONAN, Commissioner
Inyo County Supervisors
PO Box N
Independence, Ca 93526
(760) 878-0373
Website